MASTERCLASS
Mid Face
Suitable for practitioners that have already completed our foundation course in botulinum toxin and or dermal filler. Also suitable for practitioners that have certifiable experience in injectable cosmetics for 6 months with over 70 procedures administered.
Practical training is located at our college in Swords, Co Dublin.
Practical Training
1 Day, 3 patients treated.
Blended Learning
Online theory & hands on practical.
Masterclass
1:1 / 1:3 no sharing patients.
Certification
A.T.A.I. / CPD
EU, UK, AUS, CAN
Flexible Curriculum
Designed for working medics.
— What's included
Mid Face Masterclass
Blended learning – Theory provided through our online learning platform with revision on the day
Sector leading training
The mid-face masterclass presented by Dr Michelle Westcott is the most comprehensive course for treating the entire mid-face. Product selection includes Restylane, Teoxane & Juvéderm with specific training for the 8-Point Lift. Advanced cheek augmentation is provided and is the perfect follow-on course for those that have completed the introductory cheek augmentation master class or foundation course in dermal filler.
ACHIEVE
Confidence & Competence
Engaging, effective practical training
We constantly work to improve our training— draw on decades of experience from our medical educators.
Fit for purpose theory
Developed in house, delivered online to a level 7 standard and includes explanation video..
Follow on training
Grow your skills as your experience grows with our masterclasses.
LEADING THE SECTOR
Training tomorrow's industry leaders today.
Learning objectives
Know safety considerations and protocols when providing procedures for the mid-face
Understand how to provide lifting techniques for the mid-face
Know the relevant anatomy, physiology and pathologies for the mid-face
Be able to recommend and choose optimal filler products and product profiles
Be able to provide mid-face filler procedures
Course content is delivered through a flipped classroom—online learning before attending the masterclass and then revision with Dr Michelle Westcott on the training day.
LEADING THE SECTOR
Training tomorrow's industry leaders today.
What is covered
Facial Anatomy
Facial Nerves
Facial symmetry
Recommended dermal fillers
Consultation and Assessment
Symmetry
Irregularities
Patient selection
Managing expectations
Contraindications
Side effects and possible complications
Topical anaesthetic
Treatment areas and injection techniques
Mid-face enhancement
Aftercare
LEADING THE SECTOR
Training tomorrow's industry leaders today.
MD Codes covered
CK1
CK2
CK3
CK4
CK5
JW2
NL1
NL2
NL3
M1
M2
M3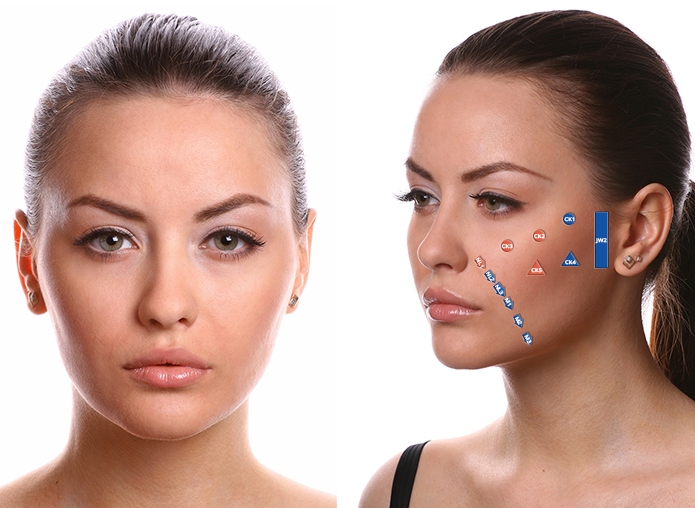 Frequently asked questions
How much is the Mid Face masterclass?
The course is €1750. You do not need to pay for the entire course upfront, when enrolling you will be presented with payment options.
Who is able to attend this course?
This course is for Doctors, Dentists and Nurses that are already providing aesthetic injectable procedures. You will need to provide certification and proof of practice.
Is there a practical component to this course?
Yes, like every course that A.T.A.I. provide there is a core focus on practical skills. You will not have to share patients and we aim to provide 6 observations and 3 patients for direct treatment. At times, observations can differ but you will always treat three patients at the minimum.
I am a beauty therapist can I attend this course?
No, due to the unregulated nature of beauty therapists and insurance protocols plus the legislation around prescription medicine beauty therapists are unable to study this course. Can I just enrol in the theory aspect of the course then? Sorry, no that is also not possible. We see that as encouraging rogue practices in the industry.
Do I need to provide my own model for the course?
No, we provide all models for the practical component of the course. If you do wish to bring along a model, please let us know at the time of enrolment.
Do I need my own insurance?
No, our insurance covers you on the practical treatment days. Once you have qualified you will, of course, need to organise your insurance to practice.
Dr Michelle Westcott
Head of training
Mid face.
The mid-face masterclass, led by renowned expert Dr. Michelle Westcott, is an esteemed course designed to provide comprehensive training in treating the mid-face region. This advanced program focuses on techniques and product selection, featuring prominent dermal fillers such as Restylane, Teoxane, and Juvéderm. With specific emphasis on the 8-Point Lift technique and advanced cheek augmentation, this masterclass serves as an ideal follow-on course for those who have previously completed introductory courses in dermal filler treatments.
The mid-face masterclass offers an in-depth exploration of mid-face rejuvenation techniques, equipping participants with the knowledge and skills to achieve optimal results. Led by Dr. Michelle Westcott, an esteemed expert in the field, the course is recognised for its comprehensive curriculum.

Product Selection: The course includes detailed training on product selection, focusing on popular dermal fillers Restylane, Teoxane, and Juvéderm. Participants gain insights into the unique properties and applications of each product, enabling them to make informed decisions when selecting the most suitable filler for individual patient needs.

The 8-Point Lift Technique: An integral part of the mid-face masterclass is the specific training provided for the 8-Point Lift technique. This innovative approach targets strategic areas of the mid-face, allowing for natural-looking and harmonious facial rejuvenation. Participants learn the precise placement of dermal fillers to restore volume and improve facial contours effectively.

Advanced Cheek Augmentation: Building upon the foundational knowledge acquired from introductory cheek augmentation courses, the mid-face masterclass provides advanced techniques for cheek augmentation. Participants delve deeper into the intricacies of this procedure, expanding their repertoire of skills to create enhanced and balanced cheek contours.

Course Prerequisites: The mid-face masterclass is designed as a follow-on course for individuals who have completed an introductory cheek augmentation masterclass or a foundation course in dermal fillers. This ensures that participants possess a fundamental understanding of facial anatomy, injection techniques, and product safety before undertaking the advanced training provided in this course.

For professionals seeking to elevate their expertise in mid-face rejuvenation, the mid-face masterclass presented by Dr. Michelle Westcott offers a comprehensive and advanced learning experience. With a focus on product selection, the 8-Point Lift technique, and advanced cheek augmentation, this course provides practitioners with the necessary skills and knowledge to achieve exceptional outcomes. By staying at the forefront of the field, participants can enhance their practice and deliver optimal results to their patients.

\Learnworlds\Codeneurons\Pages\ZoneRenderers\CourseCards